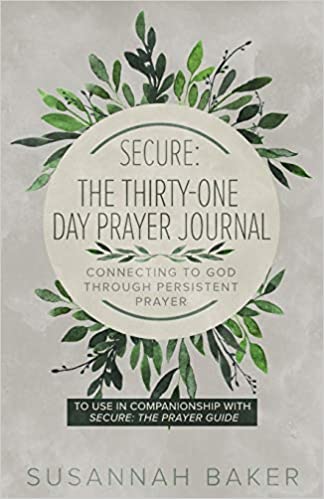 Description:
---
While praying on a consistent basis is what most Christians desire to do, maintaining a regular rhythm and routine of prayer is often difficult. To help you establish a habit that will last, Susannah Baker created the 31-day prayer journal to complement her prayer guide, "Secure: The Prayer Guide: Connecting to God through Persistent Prayer".
Through using the tools in her prayer guide and following the acronym PRAY, she provides space to Praise, Repent, Ask, and Yield to God in prayer on a consistent basis. Each section guides you through personalizing your prayers in such a way that gives expression to the struggles and deep, personal desires of your heart. At the end of 31 days, your habit of prayer will be secure and part of your daily devotional rhythm.
Also available:
• "Secure: The Prayer Guide", which coincides with the prayer journal and helps you develop the discipline and language of prayer. Available at susannahbaker.com/biblestudies/secure.
• Audio and video downloads to help you go deeper in the practice of prayer. Also available at susannahbaker.com/biblestudies.
Other Books From - Christian Living
Other Books By - Susannah Baker
Back