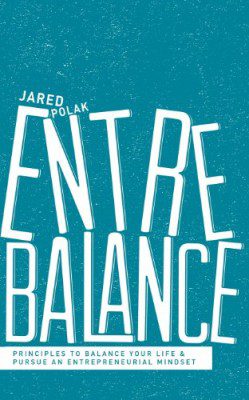 EntreBalance
- Principles to Balance Your Life and Pursue an Entrepreneurial MindsetYesterday he was a confident senior manager Now he's a hopeless man, but about to begin an incredible adventure. Join Mark Davis on an unbelievable expedition that will help you uncover the principles for living an intentionally balanced life. Learn what it takes to create an entrepreneurial attitude through a community of individuals modeling that lifestyle and pouring their wisdom into Mark. He makes a crucial decision that will forever change his life. What will you decide? Your journey through this book will reveal the following: How to escape the endless cycle of "busyness" What to do after facing your own mortality What it takes to make an entrepreneurial leap of faith The key elements to living out extraordinary relationships How to go from wanting life balance to making it happenYesterday he was a confident senior manager Now he's a hopeless man, but about to begin an incredible adventure. Join Mark Davis on an unbelievable expedition that will help you uncover the principles for living an intentionally balanced life. Learn what it takes to create an entrepreneurial attitude through a community of individuals modeling that lifestyle and pouring their wisdom into Mark. He makes a crucial decision that will forever change his life. What will you decide? Your journey through this book will reveal the following: How to escape the endless cycle of "busyness" What to do after facing your own mortality What it takes to make an entrepreneurial leap of faith The key elements to living out extraordinary relationships How to go from wanting life balance to making it happen
Format:
Paperback
Author:
Jared Polak
Category: Business, Life
Published: May 1, 2013
ISBN: 1935909711
Pages: 132
Description:
---
Yesterday he was a confident senior manager
Now he's a hopeless man, but about to begin an incredible adventure. Join Mark Davis on an unbelievable expedition that will help you uncover the principles for living an intentionally balanced life. Learn what it takes to create an entrepreneurial attitude through a community of individuals modeling that lifestyle and pouring their wisdom into Mark. He makes a crucial decision that will forever change his life. What will you decide?
Your journey through this book will reveal the following:
How to escape the endless cycle of "busyness"
What to do after facing your own mortality
What it takes to make an entrepreneurial leap of faith
The key elements to living out extraordinary relationships
How to go from wanting life balance to making it happen
Other Books From - Business
Other Books By - Jared Polak
Back